INVISALIGN® IN BEAVERTON, OR
Invisalign and the Invisalign logo, among others, are trademarks of Align Technology, Inc., and are registered in the U.S. and other countries.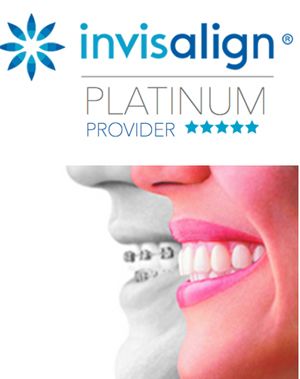 EXPERIENCE PERSONALIZED INVISALIGN® TREATMENT WITH GREAT RESULTS AT HILLSIDE DENTAL CARE.
You know that Hillside Dental Care is here for all your oral health needs, but did you know that you can also receive orthodontic care from your Beaverton dentist? A Certified Platinum Invisalign Provider, Dr. Elise Braxmeyer offers orthodontic care with Invisalign clear aligners to give you the stability of a good bite and the aesthetics of straight teeth.
Like traditional braces, which move teeth by using a constant, gentle force, Invisalign also moves teeth, just without all the metal wires and brackets. Instead, Invisalign uses a series of medical-grade plastic trays that put forces on the teeth to move them into the desired position.
WHY SHOULD YOU CHOOSE INVISALIGN?
Unlike traditional braces, you can take the trays out to eat, brush, and floss, which makes keeping your mouth healthy much easier.
Invisalign is less expensive that traditional orthodontic treatment.
Treatment with Invisalign is usually faster than with traditional braces.
Invisalign aligners are more comfortable than metal brackets and wires.
TREATMENT WITH INVISALIGN
You'll wear each tray for two weeks before replacing it with the next tray in the series. The trays must be worn 22 hours a day, and you'll need to visit Dr. Braxmeyer every six to eight weeks so she can monitor your progress. When your treatment is complete, ask us about a Vivera® retainer. Vivera retainers are custom-made using the same state-of-the-art technology as Invisalign clear aligners.
Keeping your teeth healthy during your orthodontic care is very important. Be sure to brush and floss after every meal, and visit our Beaverton dental office for cleanings every six months.
With Invisalign from Hillside Dental Care, you can get the smile you've always wanted from the dentist and team you already know and trust. Learn more during your free consultation at our Beaverton dental office!